Recently, the upgrade works of the news live stream room of ShanXi Broadcast TV station has been finished, around 100 square meters of GLOSHINE fine pixel pitch LED video screens assisted it construct the HD vision world to display the modern development of ShanXi. This has been one of the most important projects of live stream video display of Shan'Xi Broadcast TV Station since 2021 upgrade of the HD broadcast system.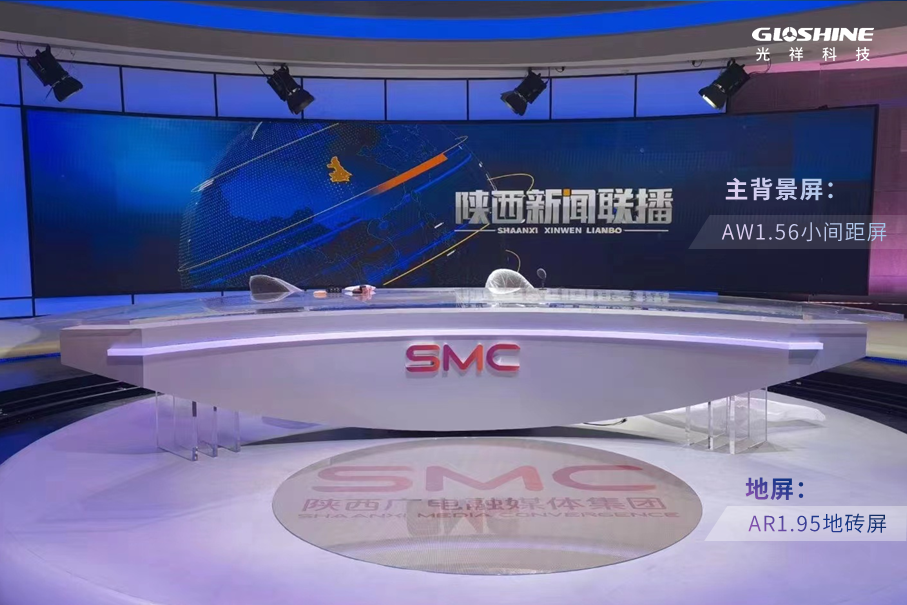 Since then, ShanXi Broadcast TV station- the Shan'Xi Convergence Media Group has upgraded its video walls one after another. The news live stream room as one of the most important studio, it has the highest requirements of LED video screens.
The news studio applied GLOSHINE AW series fine pixel pitch LED screens, AR series floor displays, ZE series HD screens as its main screen of background, screen of interview and station broadcast displays, and the floor screens of broadcast and control table, ceiling screens, MESH screen of the interview room, to realize HD video broadcast.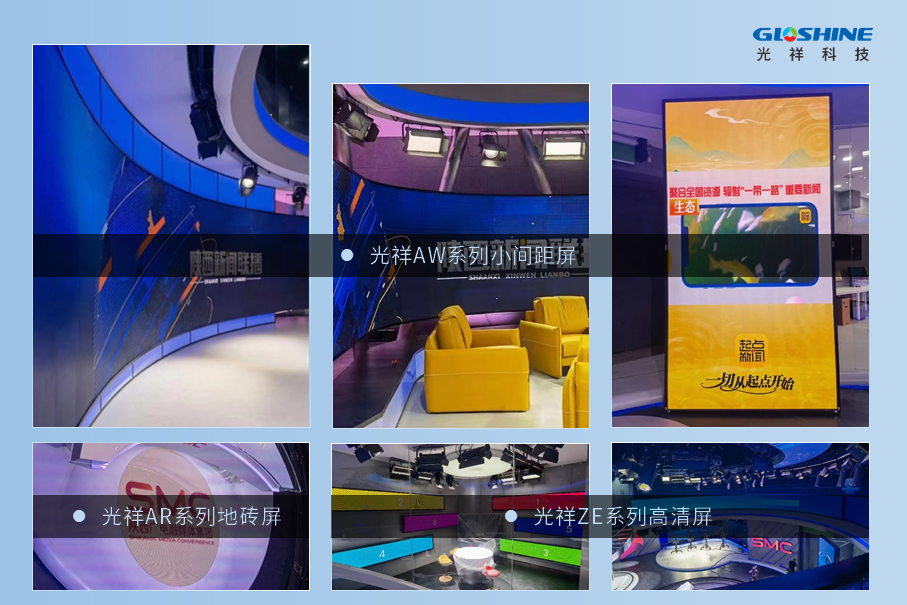 GLOSHINE excellent screen made HD new visual world
In the news studio of ShanXi Broadcast TV Station, its main background screen and its interview rooms, its station broadcast screens were GLOSHINE AW series fine pixel pitch screens. With their smooth and curve surfaces and vivid display effects which can be broadcasted in a very close distance had presented a perfect high definition image.
01
Mian background Screen of news broadcast
GLOSHINE AW1.56mm fine pixel pitch screen
In the studio with hundred square meters space, the main background screen was located in the center, a 11.4m width by 2.37m height AW1.56mm high definition video wall with smooth and curve appearance was provided by Shenzhen GLOSHINE technologies LTD.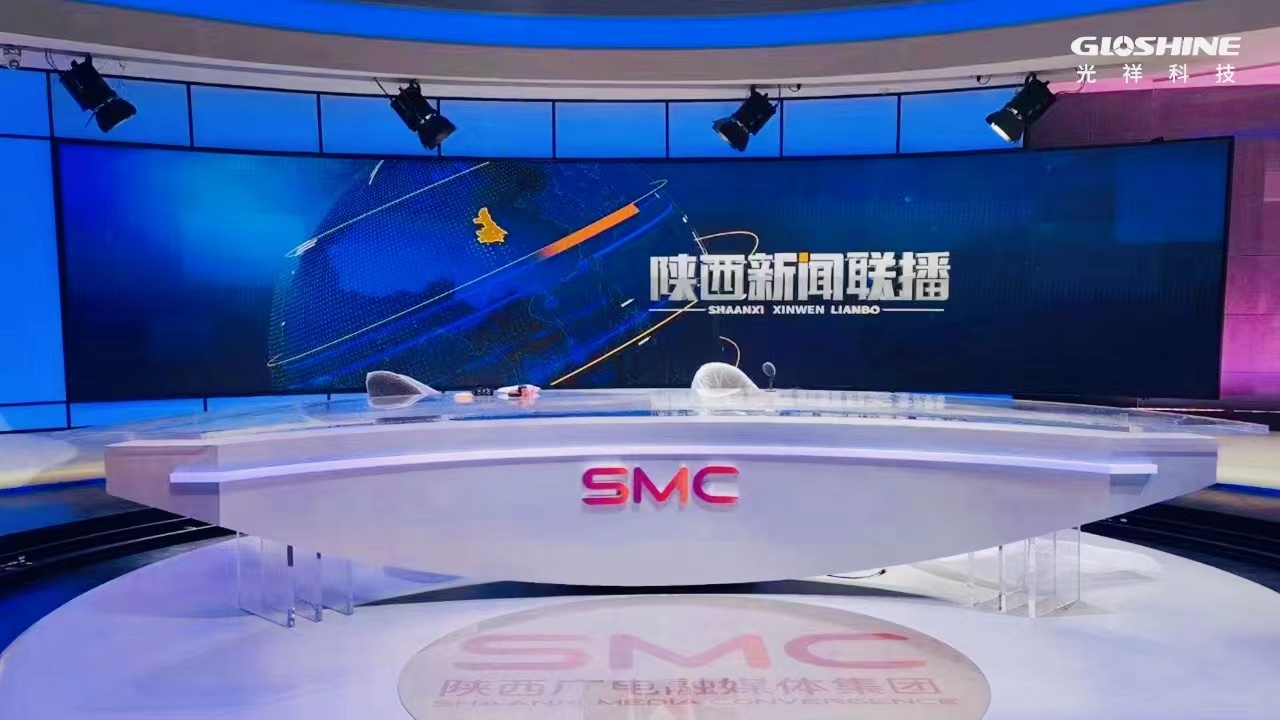 The AW series fine pixel pitch video screen came with wide visual angel and high definition of visual effect has supported the camera a smooth, noiseless HD live broadcast.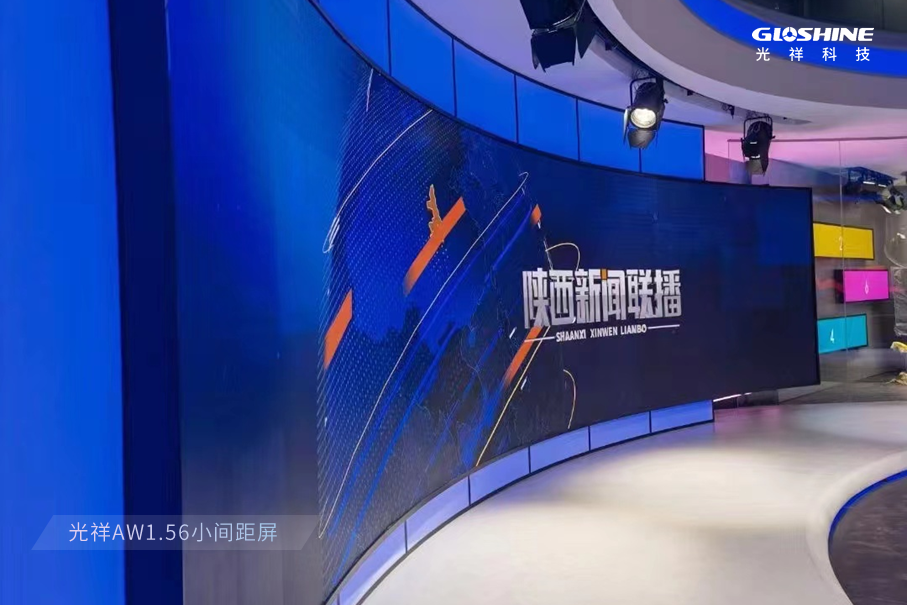 02
Main background video wall of interview room
GLOSHINE AW1.87 fine pixel pitch HD screen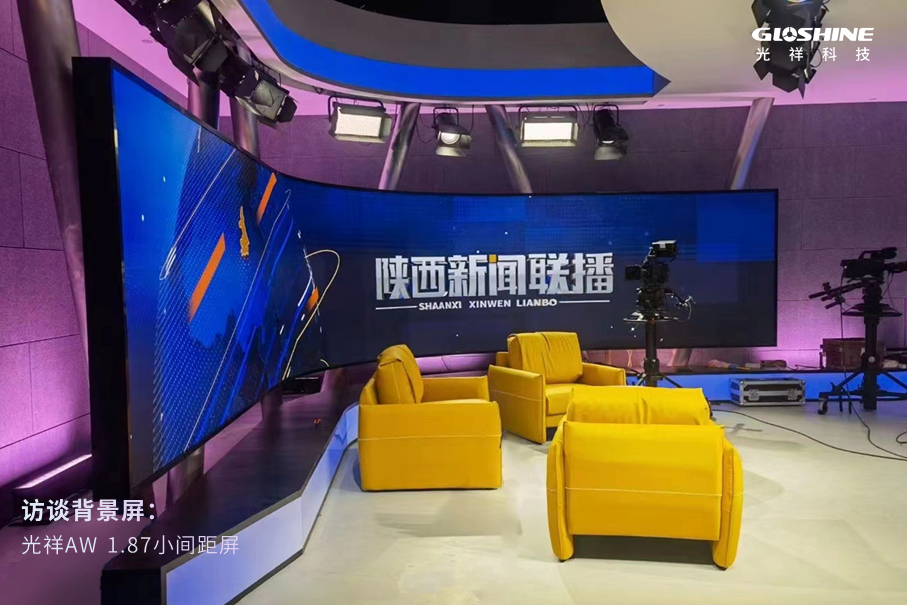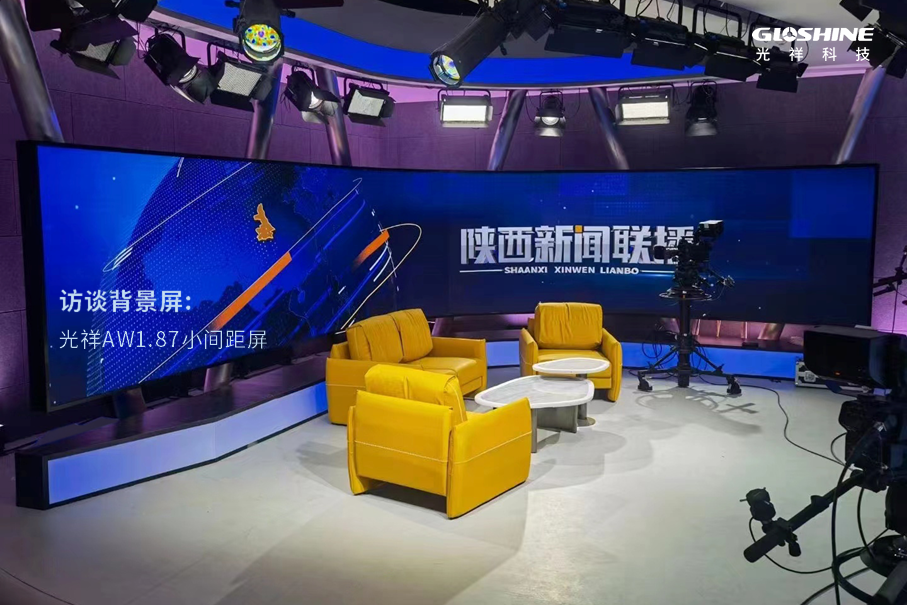 03
The screen of new media studio
GLOSHINE AW1.56mm fine pixel pitch HD screen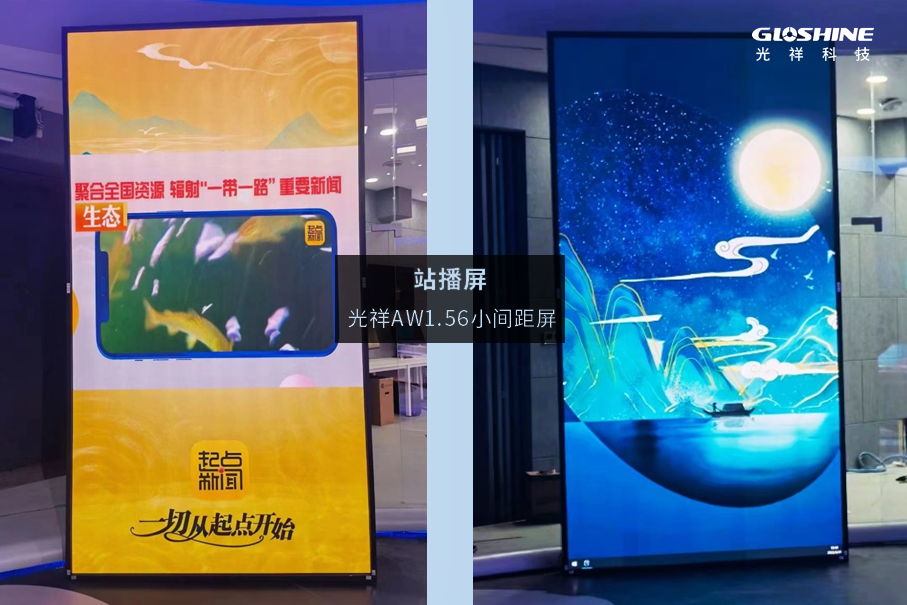 The GLOSHINE AW series HD screen comes with a golden ratio of 16:9 vision meet the aesthetic vision of human eyes offered stable quality of image, vivid and smooth colors, auto-adjustment of brightness and extreme high definition effects. Its back-up power supply and receiving card design support front maintenance which has been applied popularly in TV studios, CCTV, commercial supermarket exposition, advertising media, video conference and cinemas.
04
Floor screen of the broadcast and control table
GLOSHINE AR1.95mm LED floor screen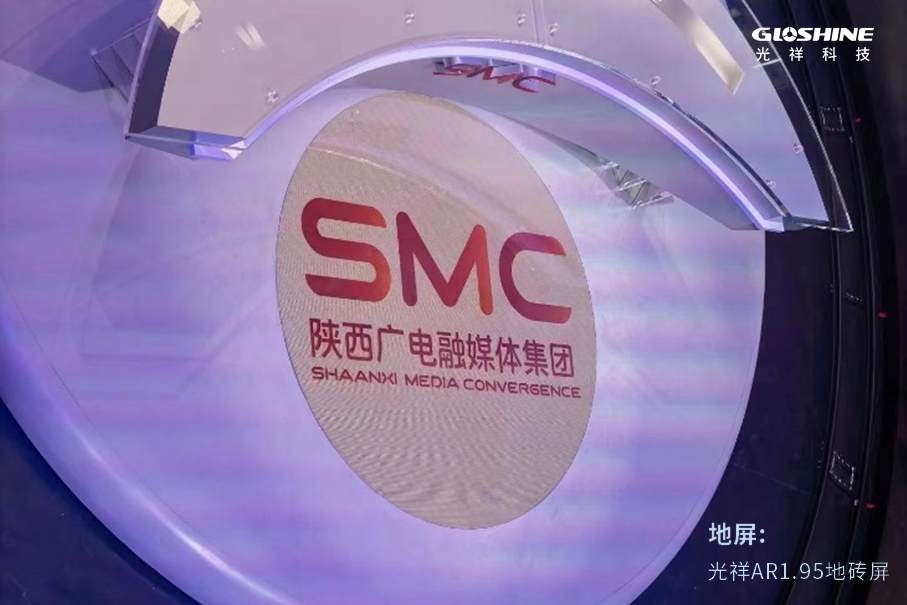 The broadcast and control table equipped with the AR1.95mm floor screen, it's the first time that the fine pixel pitch LED floor screen used in the permanent project. The circular floor screen covered by the tempering glass resisted heavy weight and displayed stable and vivid images.
05
Curve ceiling decoration screen
GLOSHINE ZE2.6mm HD LED video display
At the top of the studio, the curve screen and the MESH LED video display of the interview room, was provided by GLOSHINE, its ZE2.6mm HD LED video screen. As a classic rental high definition LED screen, GLOSHINE ZE series has the super stable performance, output lasting and stable of HD images, vivid colors and high reducibility.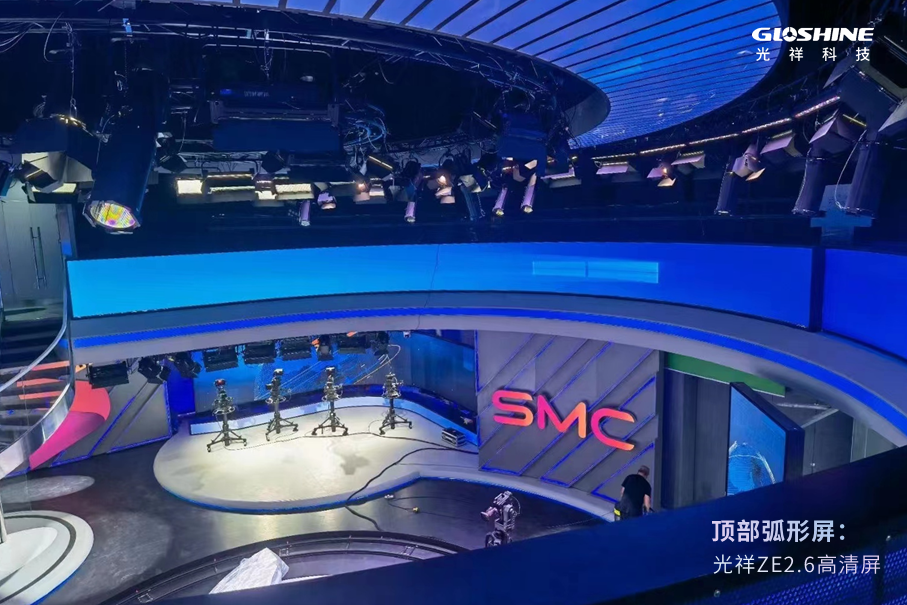 06
MESH screen of interview room
GLOSHINE ZE2.6mm HD LED video screen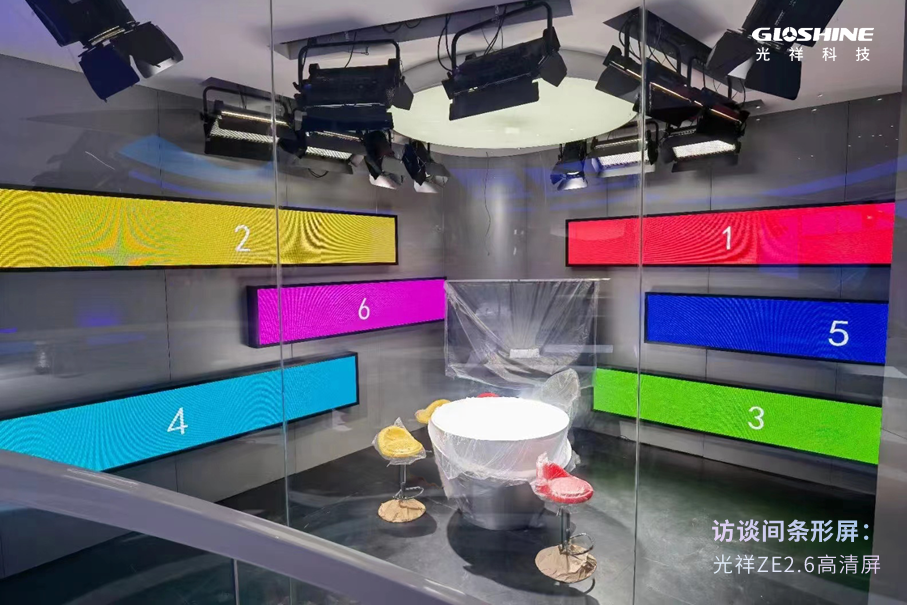 Conclusion part:
ShanXi Broadcast TV Station, as 'The Origin of Road of Silk', is the portal media of western China. It covers almost 900 million audiences. In 2021, incorporating with AW1.25mm fine pixel pitch, the TV news studio background LED screen and the civil life channel HD LED display has realized the Zero-distance with the live stream hosts and output high definition live broadcasting.
In 2022, GLOSHINE AW series fine pixel pitch LED screens settled in the news studio and worked again and fully realized the HD news broadcast visual effect.
Shenzhen GLOSHINE Technologies LTD, as a manufacturer of fine pixel pitch LED displays, always develops products with high quality, stable performance and easy-installing to win the market. As a famous brand of Shenzhen and one of the top 500 enterprises, GLOSHINE will continuously develop reliable and stable LED video screens to the broadcasting industry.